LH(R)Heavy Duty Slurry Pump:
LH (R) hard metal/rubber heavy duty slurry pumps are designed for the most difficult pumping applications for highly abrasive , high density or erosive slurries.Extra thick sections at wear point and perfect Impeller structure ensures satisfactory performance with long life, and needs minimum maintenance requirements.
Rubber lined pump expand applications to chemical products handling, several different rubber options are available to meet different application needs.Especially fit in aggressive applications like mill discharge, tailing transportation.
Model Meaning: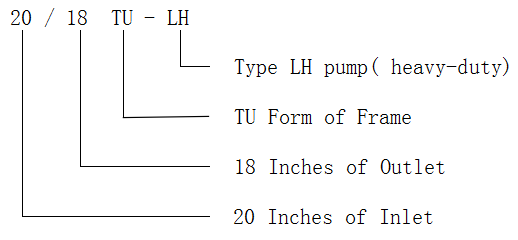 Clear Water Performance: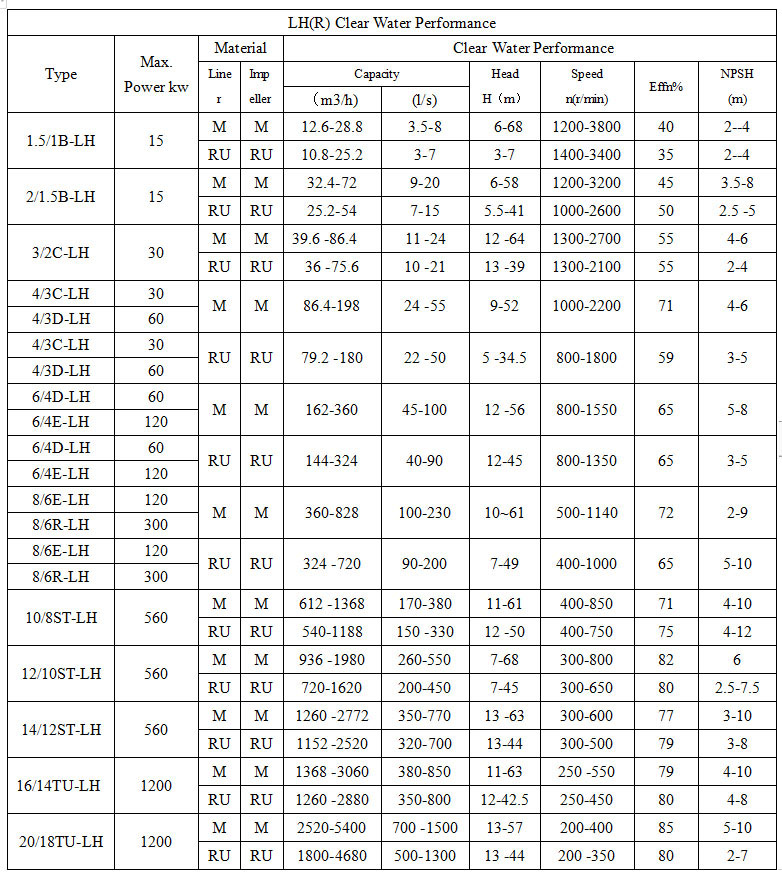 Applications:
Series LH(R) slurry pumps are widely used in the mining, coal washing, power plant, metallurgy, petrochemical, building material, dredging, and other industrial departments, etc.,resulting in low operating cost, as well as minimized maintenance and down time.
Typical Application:

Iron Ore Dressing Plant
Copper Concentration Plant
Gold Mine Concentration Plant
Molybdenum Concentration Plant
Potash Fertilizer Plant
Other Mineral Processing Plants
Alumina Industry
Coal Washery
Power Plant
Sand Excavation
Building Material Industry
Chemical Industry
Other industries
Structure & Features: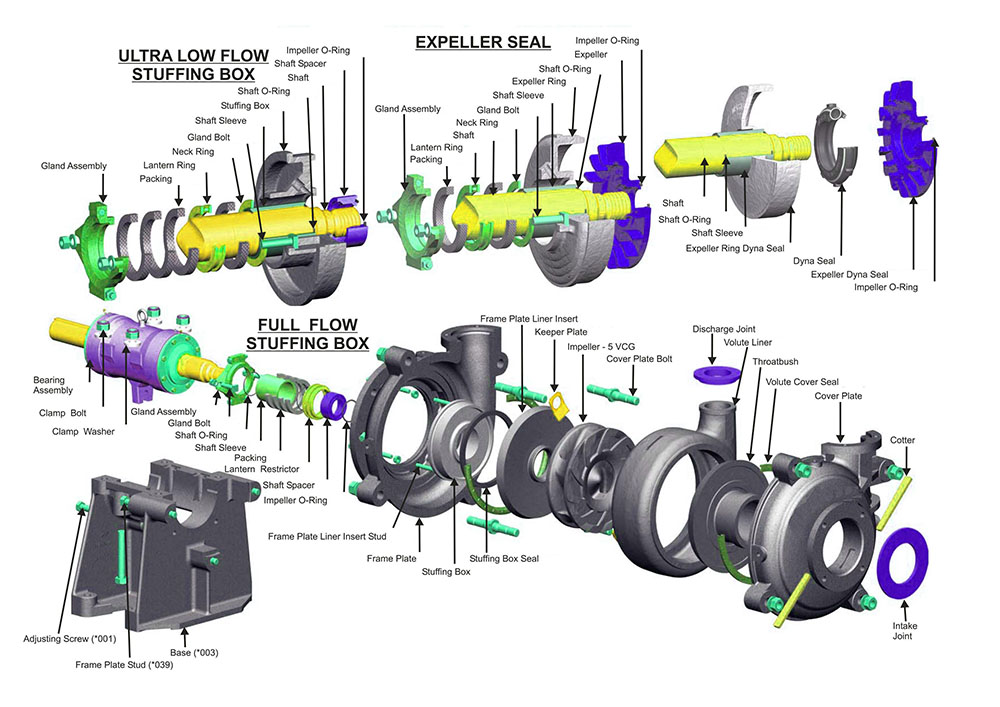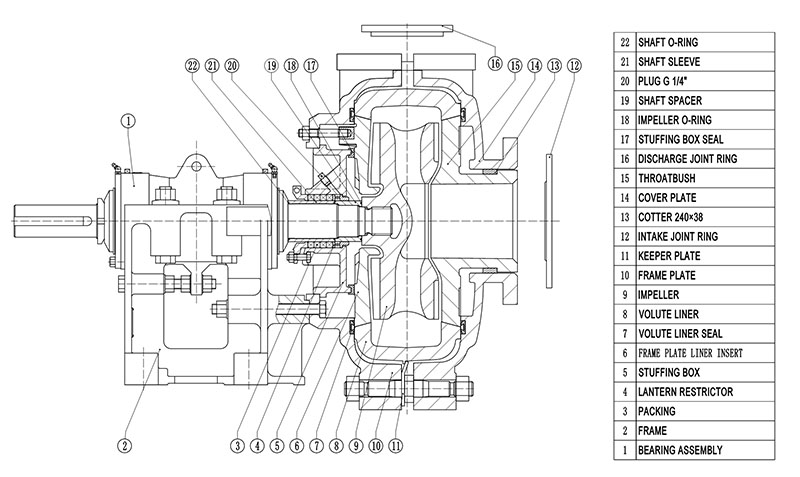 1.Cylindrical structure of bearing assembly: convenient to adjust the space between impeller and front liner and can be removed completely;
2. Interchangeable anti-abrasive wet parts made of high-chrome alloys;
3. The discharge branch can be oriented to any eight positions at the interval of 45 degrees;
4. Various drive types: DC(direct connection), V-belt drive, gear box reducer, hydraulic couplings, VFD, SCR control, etc;
5. The shaft seal uses the packing seal, expeller seal and mechanical seal;
Seal Options: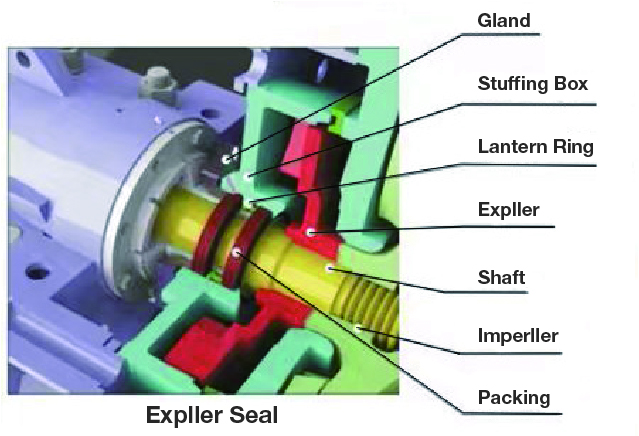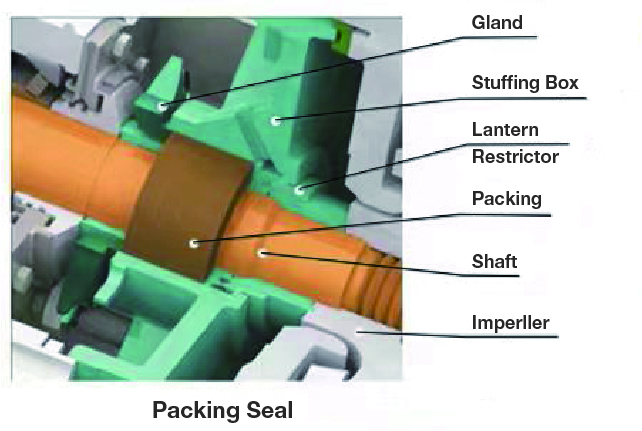 Packing Seal:
As one of the most commonly used seals for rotating shafts,the packing seal can come with low-flush or full flush arrangement which uses flushing water to prevent media from escaping the pump housing.This kind of seal is suitable for use under all pumping conditions.In situations where corrosive solids or high temperature might be encountered, Teflon or aramid fiber is used as the packing material for the gland.For high abrasion conditions,a ceramic shaft sleeve is available.
Expeller seal:
The expeller generate a reverse centrifugal force to prevents the leakage. It can be used for single-stage pump or the first pump of multiple pumps in series when the positive pressure at suction side is larger than that at discharge side by no more than 10% No gland water is needed, the slurry will not be diluted and the sealing effect is reliable, used in where dilution of slurry is not allowed.
Mechanical seal:
suitable for applications where no extra substance is allowed to mix with the fluid being pumped,such as chemical or food industry.
Pump Selection Chart: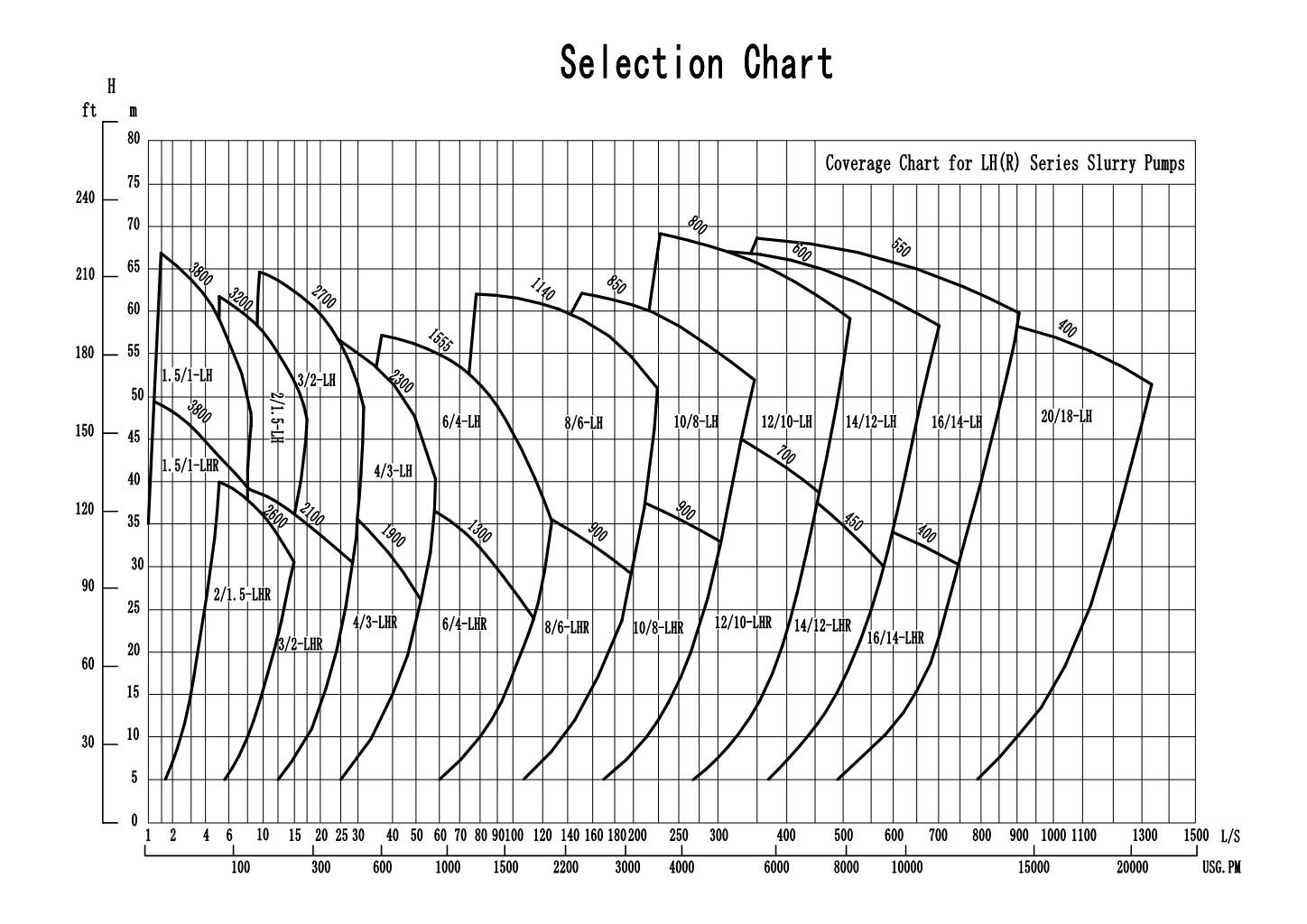 Installation types: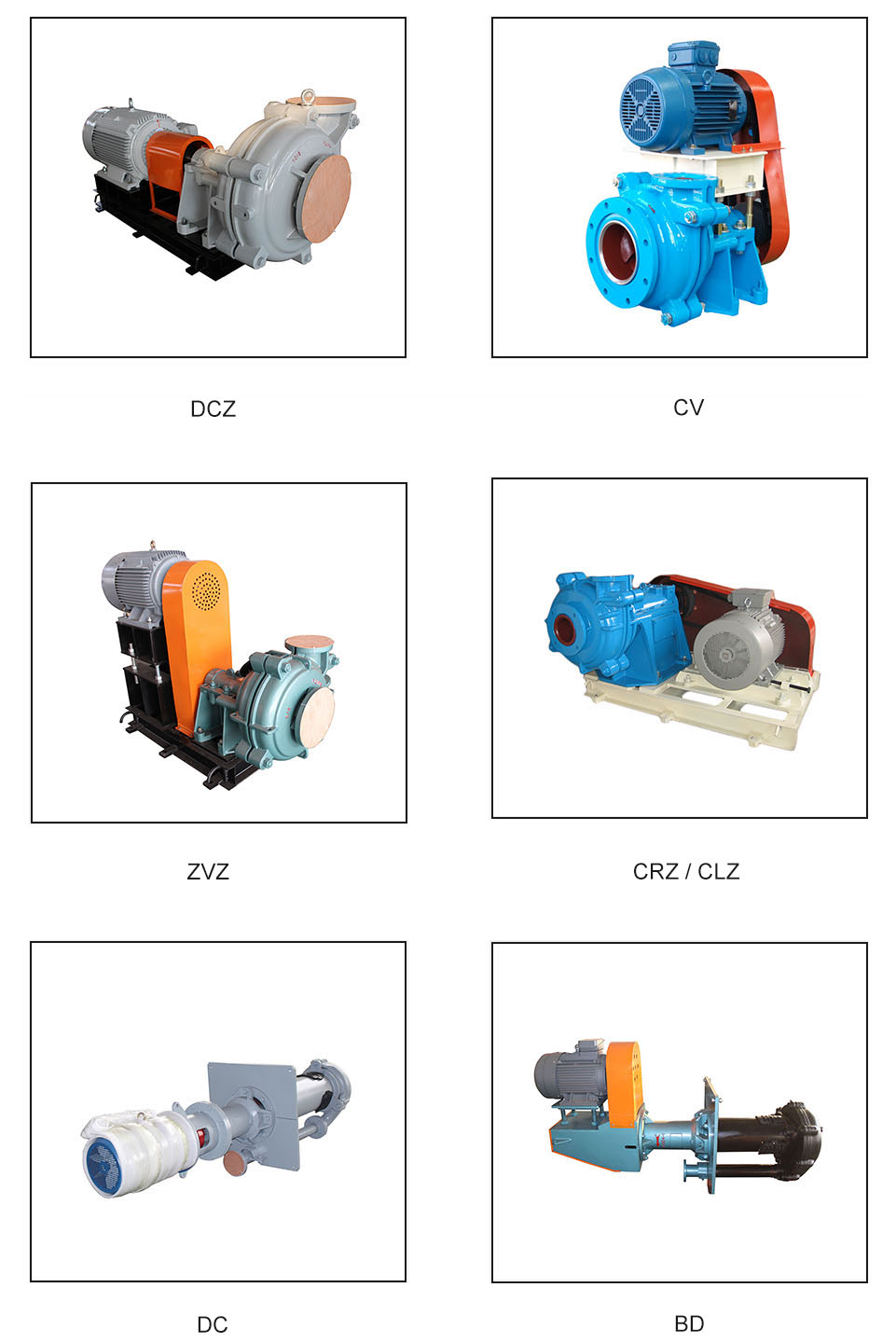 Material Options: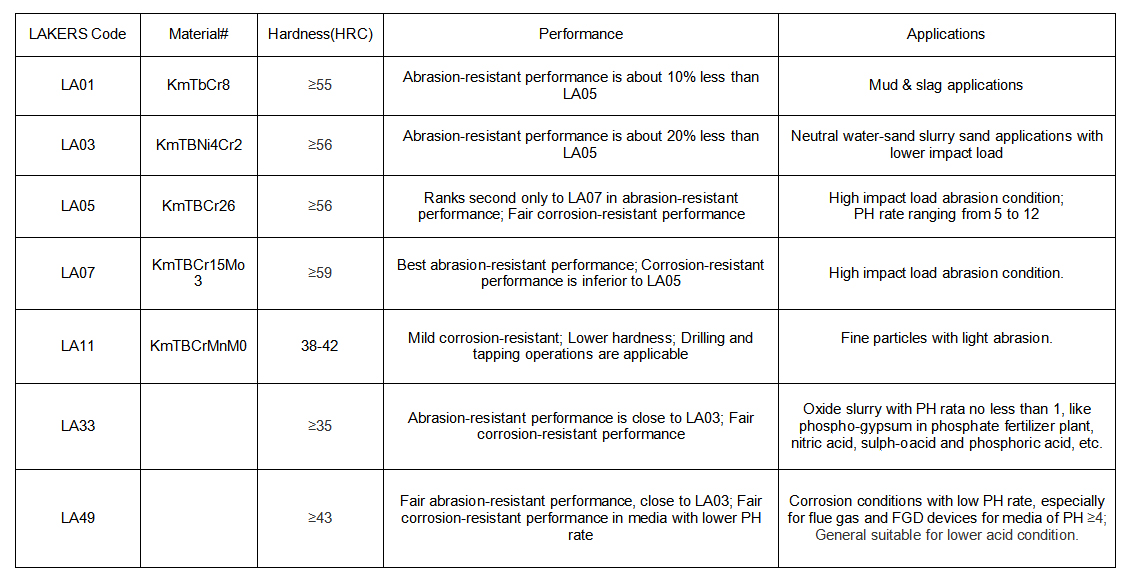 Consult Lakers for unlisted material
Outline Dimension: